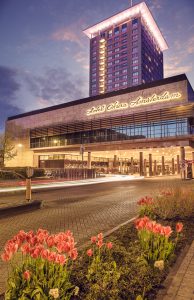 Hotel Okura
Ferdinand Bolstraat 333
Amsterdam
1072 LH
The Netherlands
Tel: + 31 (0) 20 678 7111
The Hotel Okura is offering RIPE 77 attendees the following discounted room rate:
Superior room: €198/single – €223/double per night
The above rates include breakfast, Wi-Fi, VAT and excludes 6% city tax.
Booking: You can book your accommodation on the Hotel Okura website using the group code RIPE77.
You need to provide your credit card details in order to secure your reservation.
Cancellation policy: You can cancel your accommodation free of charge until 30 days before your check in. After this date, the hotel will charge you the full amount of the reservation.
Alternative Accommodation
All suggested hotels are located within walking distance from the meeting venue, Hotel Okura. The RIPE NCC neither recommends nor guarantees the quality of the hotels listed. Alternative hotel options can be found via travel sites like booking.com, hotels.com, or through travel agents.