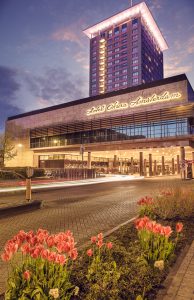 Hotel Okura
Ferdinand Bolstraat 333
Amsterdam
1072 LH
The Netherlands
Tel: + 31 (0) 20 678 7111
The RIPE 77 discounted rooms at the Hotel Okura are fully booked. Rooms at the hotel are on offer at their public rates.
Booking: You can book your accommodation on the Hotel Okura website. You need to provide your credit card details in order to secure your reservation.
Alternative Accommodation
All suggested hotels are located within walking distance from the meeting venue, Hotel Okura. The RIPE NCC neither recommends nor guarantees the quality of the hotels listed. Alternative hotel options can be found via travel sites like booking.com, hotels.com, or through travel agents.